Next Article
For the Love of a Pit Bull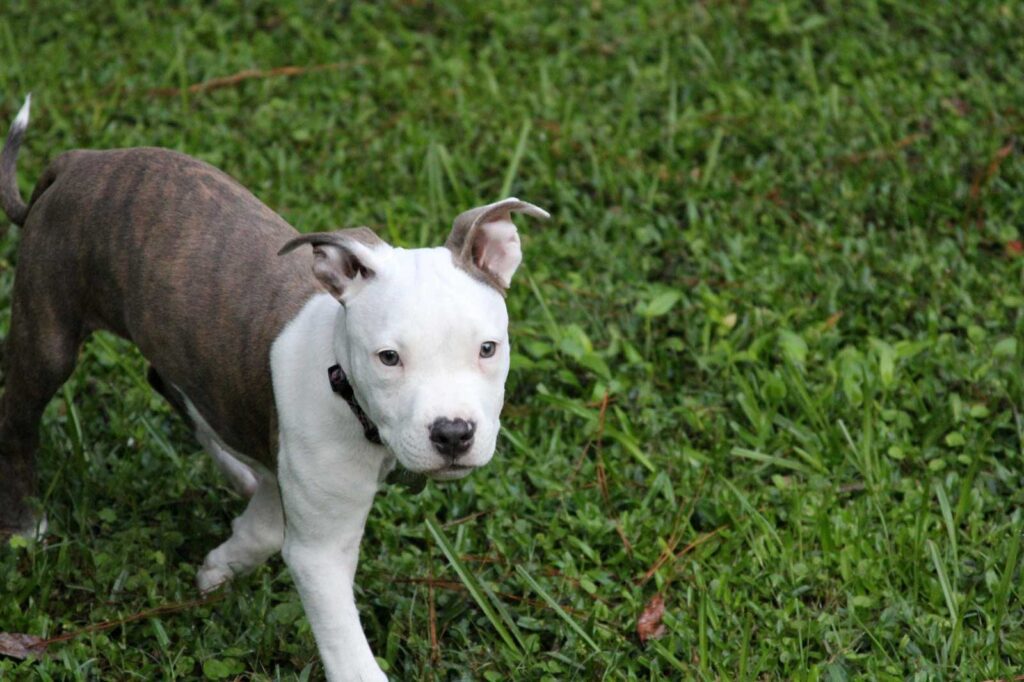 Former Executive Director, Aimee Gilbreath, shares her story of falling in love with a pit bull. 
This is the story of my pit bull. I have always loved dogs (and cats, and rabbits, and horses, and goats…).  My mother had a purebred doberman when I was born and that dog and I were inseparable throughout my early years.  When she left us, as dogs always do too soon, there was a mischievous black Labrador.  He came to us as a puppy when I was in third grade and died after a long, full life while I was away at college.
So you could safely say that I grew up knowing what it is to love a dog, or at least I thought I did.  If you're an animal lover like me there will be many dogs in your life and you'll love them all.  And then there will be THE DOG. You know, THE ONE.  I've heard them called "heart" dogs.  A best friend and soul mate in canine form.  The dog that changes things.  The dog you love in ways you didn't know you could.
Rufus is my heart dog, and he is a pit bull.  And oh my has he changed things in my life!
When I moved to Los Angeles 10 years ago, I'd never met a pit bull in the flesh.  All I knew about them is what you see on the news, and that is almost never flattering.  So when I started volunteering for a rescue group I was honest-to-gosh nervous to walk a pit bull in spite of a lifetime of handling big dogs.  It didn't take long, though, for me to figure out that pit bulls are just dogs.  And they are typically exceptionally sweet, connected, and eager to please dogs at that.  Being the animal lover that I am, I naturally fell head over heels in love with pit bulls.  And then I learned how many of them die in our shelters every year.  Oof.  Heartbreak.
I needed to adopt a pit bull, stat.  To save at least one, to do my part.  There were some details to work out first, like moving out of my "no dogs allowed" apartment, convincing my then-boyfriend, now-husband that this was a good idea, and reading every single thing that BAD RAP has ever written.  But these really are small matters to a woman on a mission.  We looked at hundreds of dogs, drove to every shelter in Los Angeles, scoured Petfinder.  And then we found him.  He was a year old, sweet and spunky.  He had been waiting for a home for four months, and other potential adoptions had fallen through.
We brought him home and had a blast.  We did obedience training and agility classes. We had dog play dates with our friends and their pups.  Our roommate adopted a kitten and he and Rufus became the best of friends.  This pit bull became a part of our family and I could no longer imagine life without this silly, soulful being whose only mission in life was to love and be loved.
Unfortunately it was not all wine and roses.  We got dirty looks on our walks.  People snatched up their kids and small dogs when they saw us coming.  They could not see past his bowling ball sized head and rippling muscles.  Once anyone meets Rufus they fall in love with him and we were converting parents, friends, neighbors and co-workers all the time.  But it was a slow process.  And while we had saved one pit bull there were so, so many more waiting in the shelters.  I couldn't stand the thought of sweet amazing dogs like my boy being killed.
What to do, then?  Scare the crap out of your family by quitting your very good job to go to work in animal welfare!  When I met our founder, Dr. Gary Michelson, for an interview at his home I also met his two pit bulls and I knew that it was meant to be.  Pretty much everyone else thought I was crazy.  What can I say?  Those heart dogs will make you do strange things.
That was eight years ago.  Rufus is ten now and my whole life is about saving pets.  He comes to work with me almost every day and "supervises" things at the Michelson Found Animals offices.  Under his watchful eye we've done pit bull awards and adoption promotions, we've supported fight bust dogs and programs that keep pit bulls in their homes and out of the shelter.  Countless pit bulls have been spayed/neutered or microchipped because of our programs and grants, and Rufus and I have visited schools for career day.
In our spare time, Rufus and I like to foster other pit bulls so that we never lose touch with the front lines.  My husband is a willing, if not entirely enthusiastic, participant in these shenanigans. Our specialty is teenage pups – gangly Monkey, blind Chunk, lovely Lola and many more.  Rufus has been a fantastic big brother and mentor to all of them, he's paying it forward too.
October is Pit Bull Awareness Month, and we plan to celebrate here at Michelson Found Animals. Check back with us often to see stories about amazing pit bulls and their people.