Keeping pets and families together is at the core of the Better Neighbor Project (BNP) vision. In collaboration with community and civic partners, we provide direct support to pet owners through free veterinary care, pet wellness and hygiene, spay/neuter and more.
Want to volunteer with BNP?
Better Neighbor Project is always looking for volunteers to help us serve across the greater Los Angeles area.
UPCOMING COMMUNITY EVENTS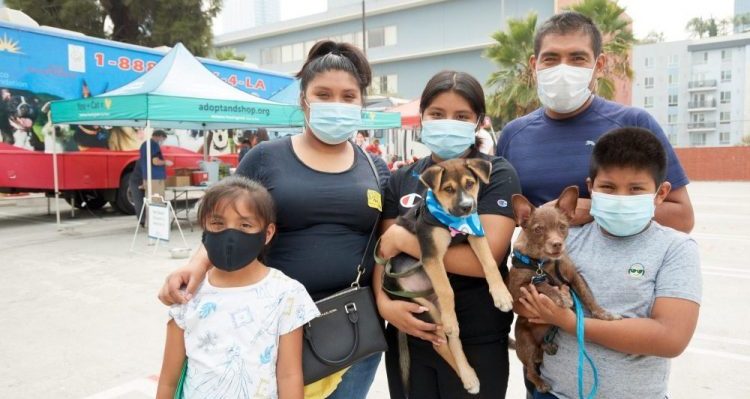 BNP hosts weekly pet food pantry days in multiple locations throughout greater LA where we distribute free pet food in conjunction with an existing food pantry. BNP also hosts Pet Wellness Days in various locations on a monthly basis in which free core pet services are offered to the community.
FIND LOS ANGELES RESOURCES
If you are unable to attend one of our events, you can utilize our Pet Owner Assistance Resources page to find additional pet assistance near you. Many of our partners who provide services at our events can be found in our resources page as many offer pet assistance to the community outside of our scheduled events.
Learn more about Better Neighbor Project and the work we do in different communities.
FREQUENTLY ASKED
QUESTIONS
Where and when are the Pet Food Pantry Days?
Pet Wellness Days are hosted across Los Angeles, in different communities throughout the year. Information on future events and how to make an appointment will be made available on our Calendar of Events.
What is a Pet Wellness Day?
The Better Neighbor Project's Pet Wellness Days aid communities facing pet food and wellness insecurity in the wake of COVID-19 due to its economic impact across California. These events are hosted in different cities on a monthly basis when possible. The BNP goal is to go directly into the community to provide much needed support to pet owners by offering free pet wellness and hygiene services, a pet food pantry, surrender prevention and other humane educational resources. The event is free and open to the public, with appointments for services being requested in advance by attendees.
Where and when is the next Pet Wellness Day?
Pet Wellness Days are hosted across Los Angeles, in different communities once per month. Information will be made available on our Calendar of Events 
How much do services cost?
Thanks in part to our collaborations and the generous support of Dr. Gary Michelson, all services at any BNP event are free of charge to all attendees.
If I can't get an appointment for services, can I still get resources at an event?
Yes! There are other free services that will be provided to the community with no appointment required. These services may include but are not limited to pet food, and pet resources such as surrender prevention assistance.
WHAT PET Wellness SERVICES ARE OFFERED?
Pet Wellness services are considered basic veterinary services and may include vaccinations, microchipping and flea/tick treatments. If your pet requires more immediate medical attention please seek assistance at your local veterinary clinic or hospital. You may be able to find financial assistance to cover some veterinary care from organizations listed in our Pet Owner's Assistance Page.
What pet hygiene services are offered?
BNP provides pet hygiene services that help meet basic medical grooming. Some examples of pet hygiene include nail trimming and teeth brushing and ear cleaning.
Can I sign up for both pet hygiene wellness resources?
In an effort to serve as many pets as possible, pet owners can only sign up for Wellness OR Hygiene, they cannot sign up for both.
How do you determine where your Pet Wellness Day events are held?
Our collaborative partners include those who share the BNP mission and will work with us to achieve our goals. We partner with community based organizations and civic partners alike to host Pet Wellness Day events and to carry out other BNP activities. These collaborations help direct where we are able to provide services. If you are a community based organization and would like to host a Pet Wellness Day in your community, please reach out by emailing betterneighbor@foundanimals.org